When your Baby Isn't a Baby Anymore :(
My baby is now 15 going on 16 this year. She had been asking for years to have her room updated. As I looked at the childhood remnants of her bedroom, I knew she needed something that fit her age group. The blue walls, the ceiling lined with color changing LED lights, and the sheets with the hearts on them were no longer wanted.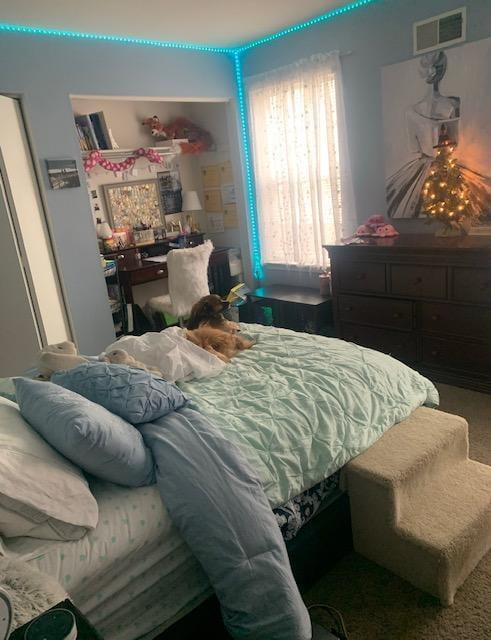 So this 'Working Mom' started planning......

The main question was, "Am I going to sell her existing furniture and buy new furniture?" She wanted a coastal theme with white furniture. I had made a nice investment in the set she has, and I had mixed feelings about letting it go......
So, after scouring Pinterest for "Coastal Bedroom" ideas, I decided to refinish all 6 pieces (A desk, 2 nightstands, 2 large dressers, and 1 lamp). One piece at a time.... patiently, with some minor injuries, a few curse words, tears, beers, many YouTube videos, countless conversations with the experts at Home Depot, and a lot of love, I got it done over a period of 4 days.
I waited for Maggs to jet set off to Florida with her dad for a week-long summer vacation and here is how I transformed her room.....
I started by emptying it...... I needed SPACE! As a result, the rest of my place began to look like I was on an episode of "Hoarders".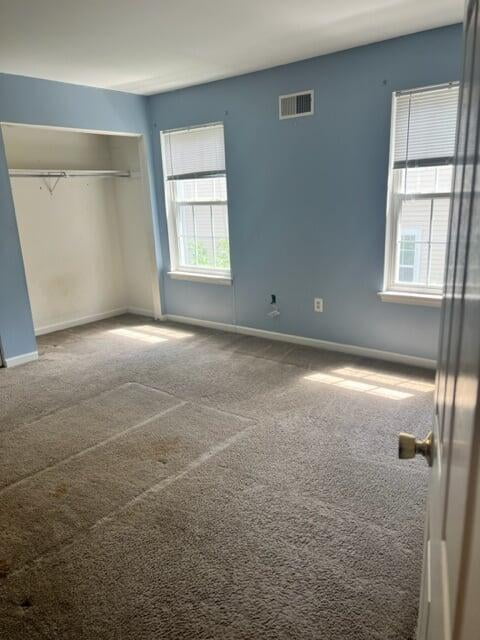 But here we are.... ready to make it a blank slate.....
I used BEHR ULTRA SCUFF DEFENSE Interior Eggshell Enamel in the color "Beach House"-$40/gallon. I did need 2 gallons due to multiple coats needed to cover the blue paint. It took 3 coats total.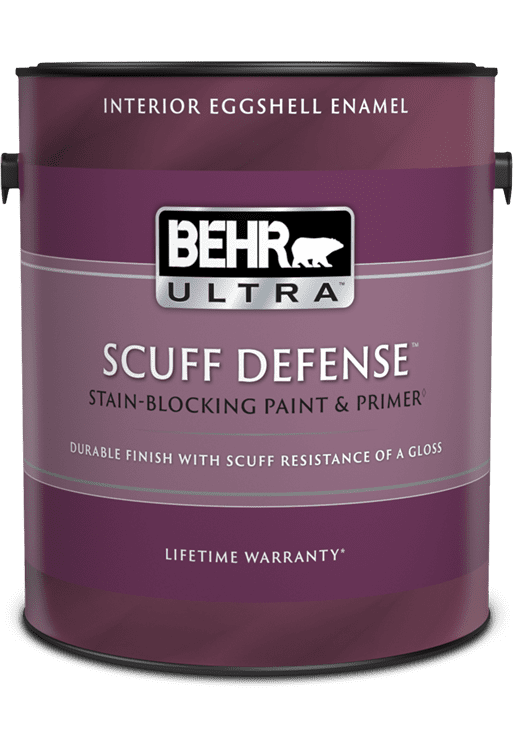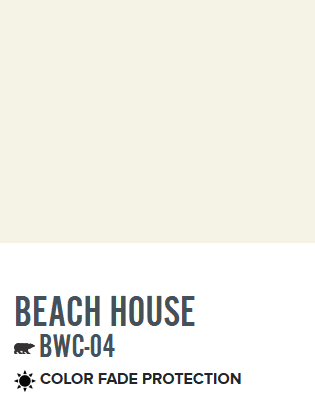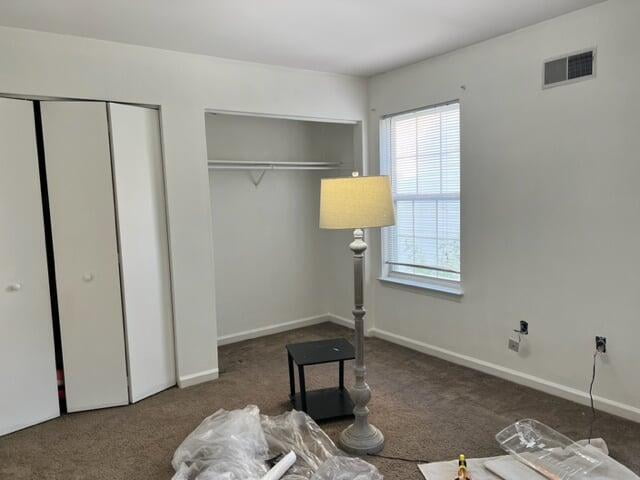 Already such a huge difference.
Then I bought a couple painters canvas tarps to protect the rug (I bought smaller ones (5x5) for about $10/each). They will come in handy again someday I'm sure... And I used furniture slides to move the heavy pieces of furniture easily over the carpet and onto a tarp. I painted each piece with the sliders on, to lift the furniture a bit so I could paint the legs and not the floor.
One by one I removed the hardware and knobs from each piece while removing the drawers. Then I cleaned each piece of furniture with 'Krud Kutter' and a lint-free towel to remove any dust, dirt, or stuck-on junk. This way the paint will go on evenly and smooth.
I had found paint I was initially going to use after searching many DIY YouTube videos, but the awesome guy at Home Depot steered me toward a product specifically for kitchen cabinets. A semi-gloss paint. (Also, in the same color above, "Beach House"). $52/gallon. I only needed 1 gallon of paint for all 6 pieces of furniture..... And he promised me I wouldn't have to sand it!! He was right!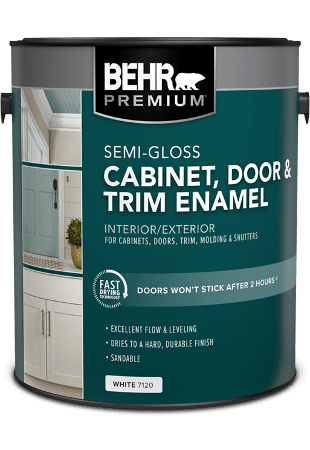 I knew I was going to have to do multiple coats. It ended up being a total of 3 coats per piece. YESSSSS, it was time consuming, but as I saw how each piece was taking shape, I became more motivated to continue on. I did the smallest pieces first, then saved the bigger pieces for later. I honestly have to say the bigger pieces didn't take much more time. I used a cloth rolling brush (lint-free) to apply the paint on each side, surface, and drawer. I then went in with an angled brush and touched up the spots the roller couldn't reach. Each piece was allowed to dry 1 hour before the next coat was applied. (I used different sizes of the rollers to help coat the pieces faster).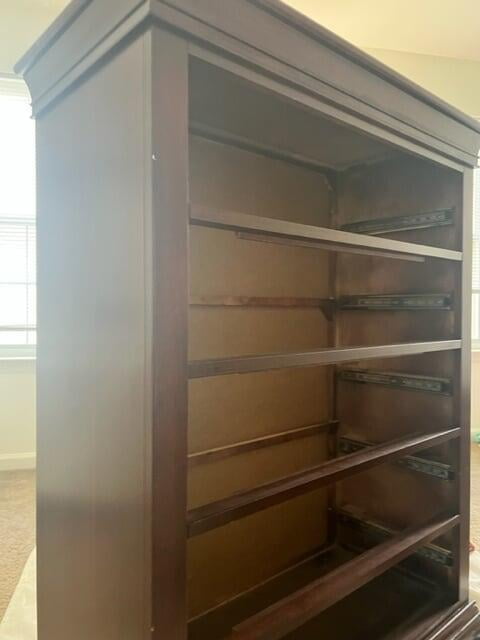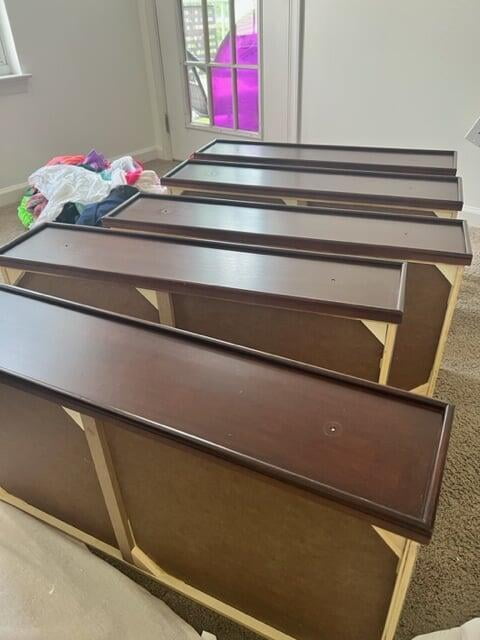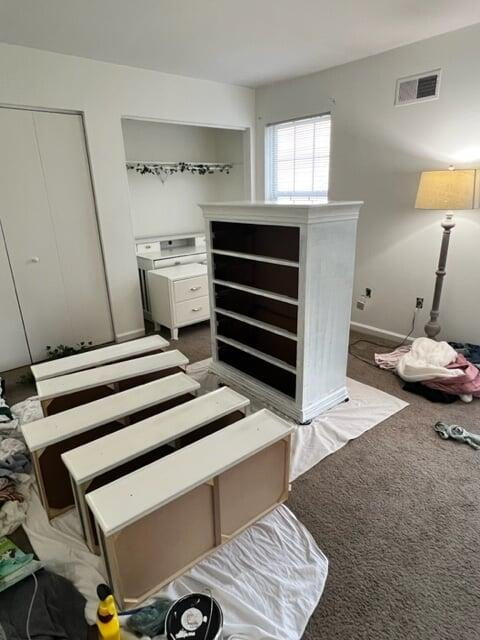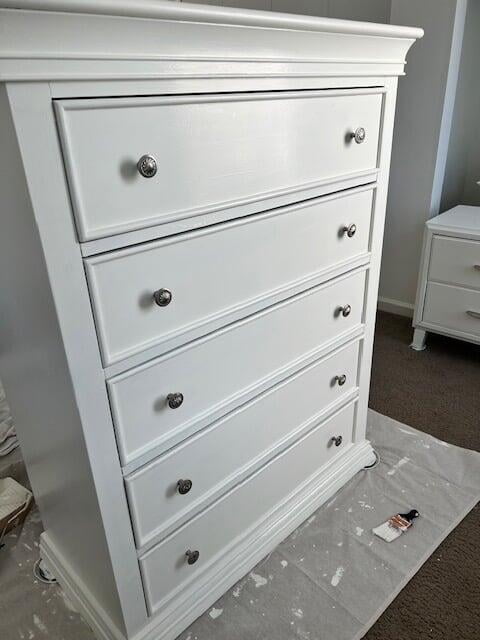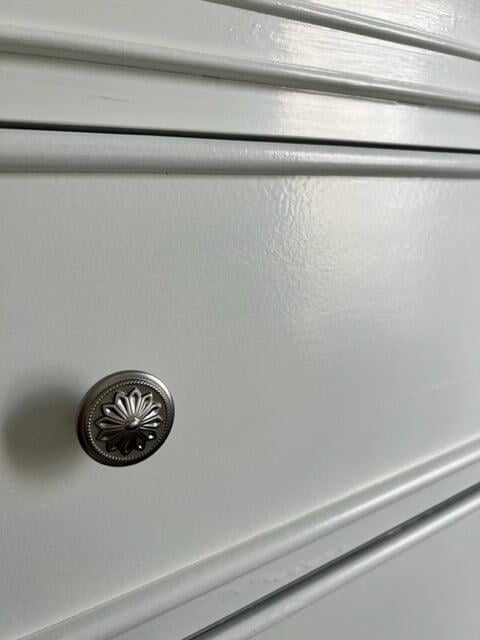 After the paint was completely dry, I replaced the existing wooden knobs with an amazing Amazon find... You can typically find these knobs for $5/piece. I needed 21 of them.... I found these on Amazon for $25/12-pack. (Click the link...... Brushed Satin Nickel Cabinet knobs,1.4"(36mm))
I had 3 knobs left over, so I used 2 of them on her closet doors. :)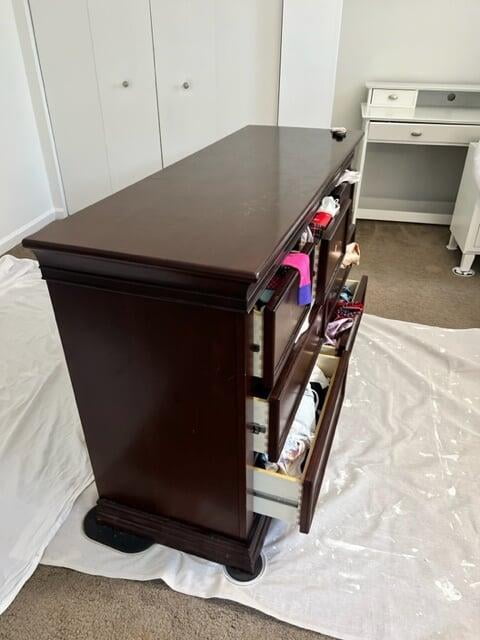 Continuing on, one piece at a time.....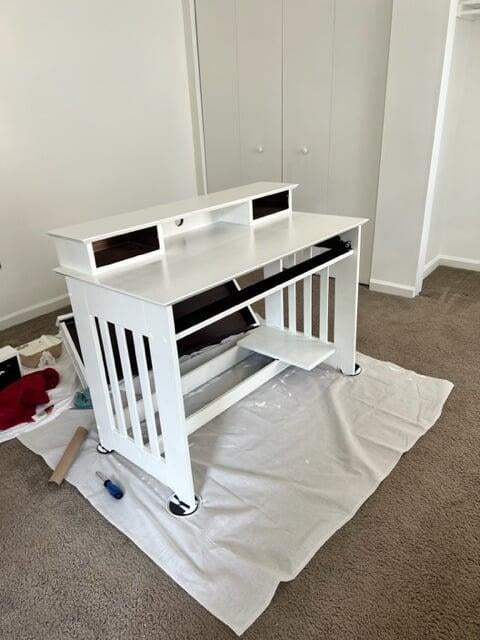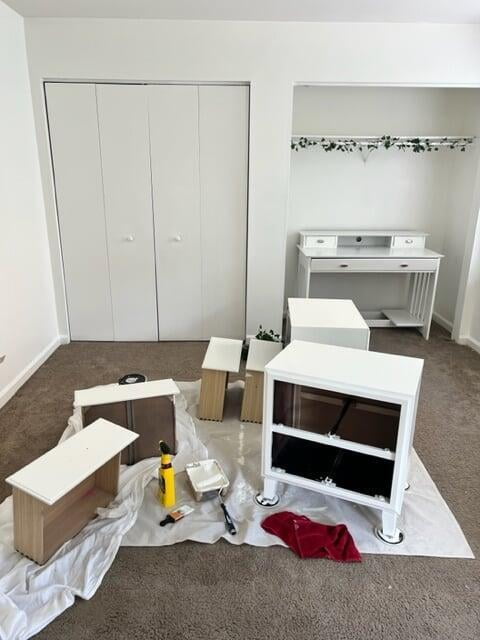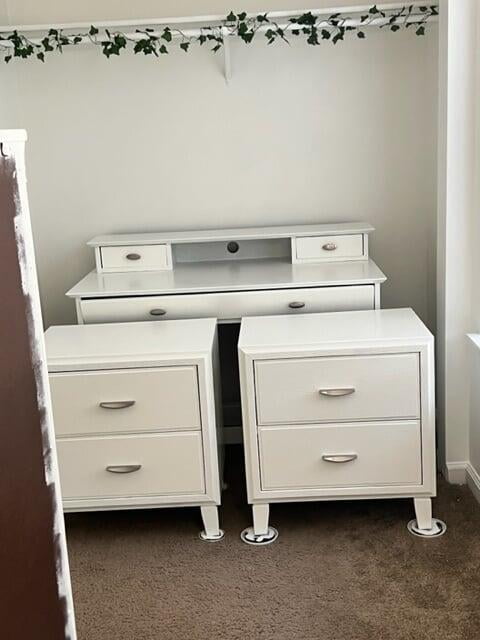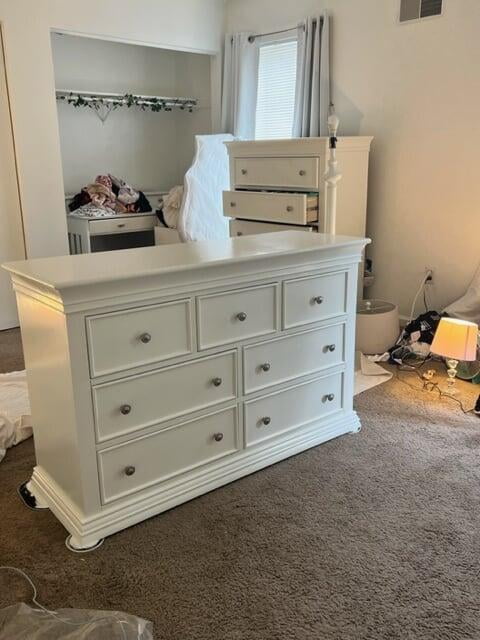 Now for the big reveal......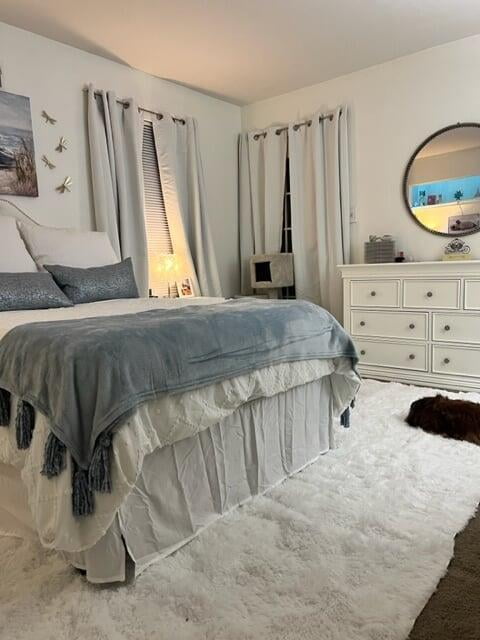 The mirror was from Home Sense.
The super plush white rug (9x12 ft) was from Amazon (It comes in multiple colors) Water-proof and dirt-proof... We shall see..... (Here is the link..... evizen Furry Rug
The full-sized headboard was also Amazon... Safavieh Mercer Collection Arebelle White Velvet Headboard (Full)
The blackout blinds were Amazon... Deconovo Cream 100% Blackout Double Layer Curtains, 52W x 84L Inches)
I lined the upper ceiling above the desk area with LED strip lights purchased at Home Depot for $10 (complete with a remote and the ability to increase or decrease the brightness or change the colors).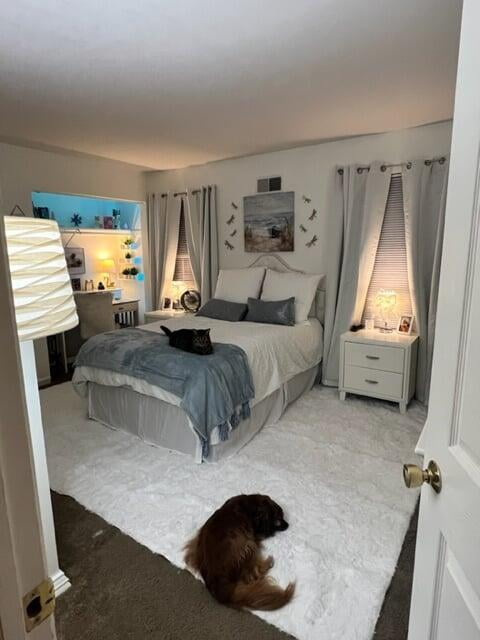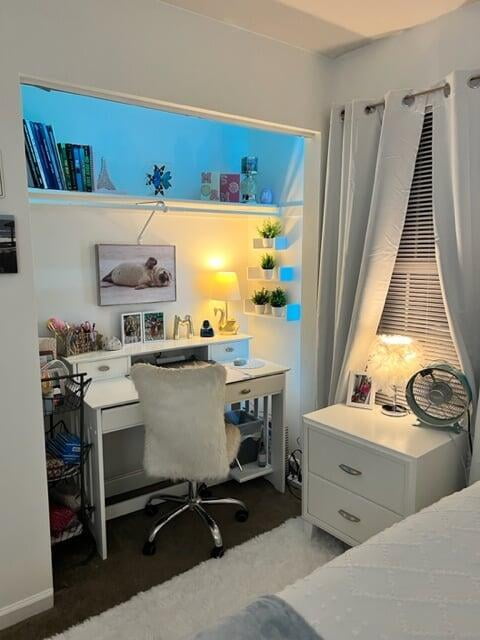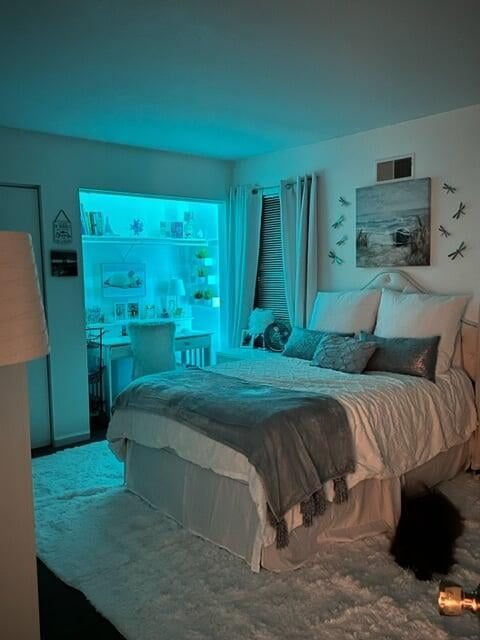 Night-time view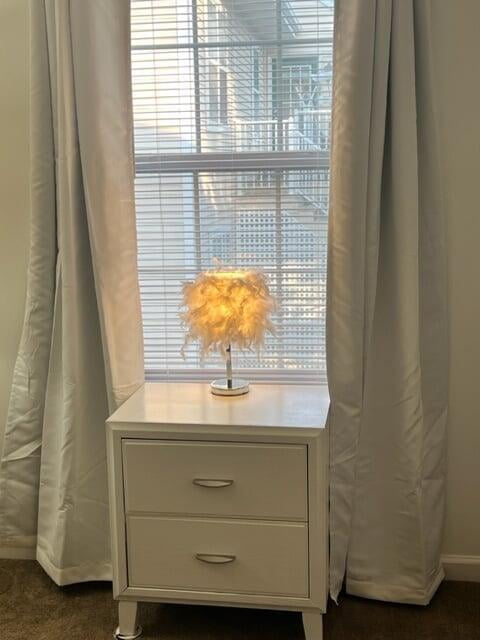 I found these cute feather lamps on Amazon too! You have to fluff them a bit as they come completely flattened while packed... but once they are out of the box and fluffed a little, they turned out super cute! Here is the link below:
TowerTree Feather lamp,White Beside Table lamp - Amazon.com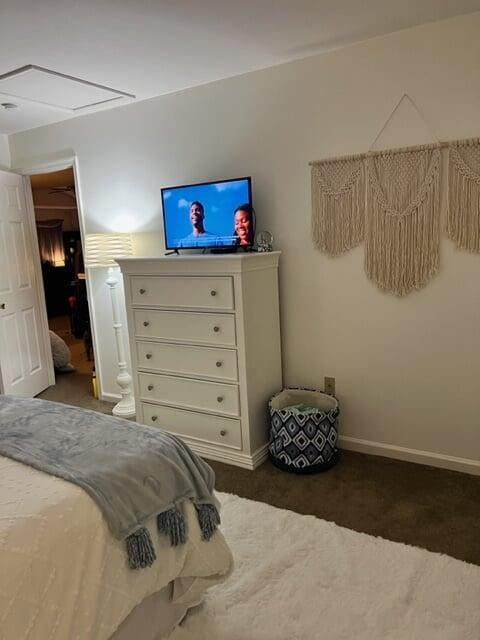 The Boho-style wall hanging was something Maggs had in her Amazon cart for a while, so I got this too! On Amazon of course..... Here is the link: Amazon.com: Mokof Large Macrame Wall Hanging Boho Woven Art 43"x32"
The wall art, bedding, pillows, and decorations mainly came from places like Home Goods, Home Sense, Michaels, and Amazon.
And to top off the room, I added an Egg-chair, on sale from Wayfair. It took less than 20 minutes to assemble. Not bad at all....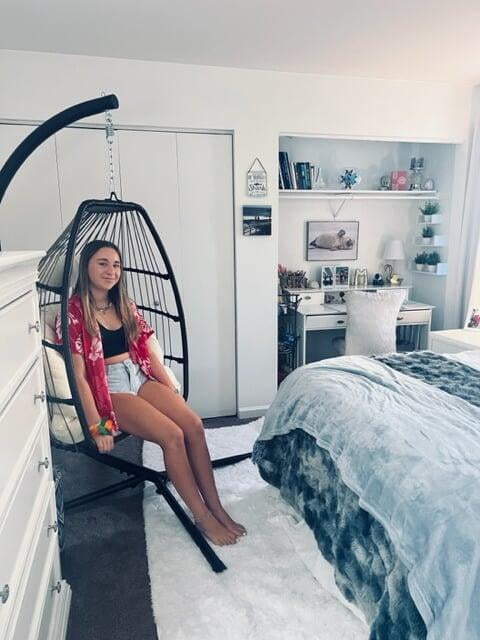 So, in the end, Maggs was SUPER surprised, so excited, and now has a modern new inspirational space to start off her sophomore year of high school.
I am going to hang up my painter's cap for a long while.
Here's wishing her the best start to the new school year!
Xoxo -Lisa (aka "Mom")