Celebrating one of our favorite desserts that just happens to have its own National day!!
It appears the origins of the bombe desserts are found in the United Kingdom, with the earliest mentions having been in the early 1900s. An iced cream base with many variations, the raspberry bombe is a classic.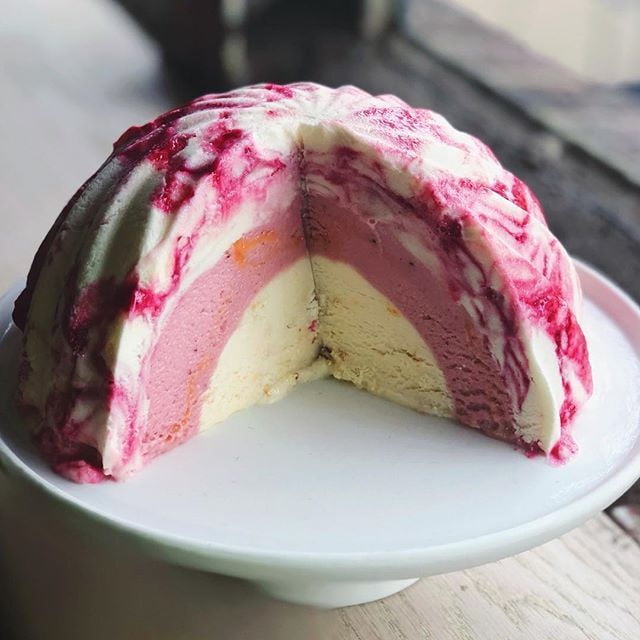 Here is a simple recipe for a raspberry bombe:
Ingredients:
1 1/2 cups powdered sugar.
12 small vanilla meringues, roughly crushed.
2 Tbsp brandy (optional).
Whip the cream together with the sugar, brandy and vanilla.

Add the raspberries crushing some of them as they go in along with the meringues.




Mix lightly and put into a round pudding dish lined with plenty of cling film that is well overlapping the sides (don't worry if it isn't neat) and freeze overnight.




Remove from freezer at least 15 minutes before serving.




Turn out onto a plate and remove the cling film (quickly dip bowl into hot water and dry off before inverting if you're having trouble getting the bomb out of the dish).




NOTE: if you are in a hurry, you can layer store-bought ice cream in various flavors as seen in the picture above. You can microwave in short bursts to soften the ice cream, then layer in a bowl and freeze for a few hours. Once you flip it, you can also coat the top with chocolate or raspberry syrup.
Mangia! Xoxo -Lisa & Adrienne
Stay tuned to our website and social media platforms! We have exciting news coming soon!