Tuesday Treats!
I'm pretty sure the way to my heart is through a perfect pot roast and a glass of red wine. My mom used to make the BEST pot roast. I have funny memories of us going to the Rain Forest Café and her ordering their "Paradise Pot Roast" (she was a sucker for this meal too). There is something just comforting about it.... This recipe I have tweaked a bit over the years. It is now completely fool proof. I have had dishes where the meat was too overcooked and the gravy was under seasoned. I think I got this one right. So, grab yourself a nice bottle of something full-bodied like a Malbec, Cabernet Sauvignon, Cabernet Franc, or my personal favorite, an Aglianico, and get ready for a simple one pot meal. This serves 6-8 people. I usually make this much anyway, because the leftovers heat up perfectly.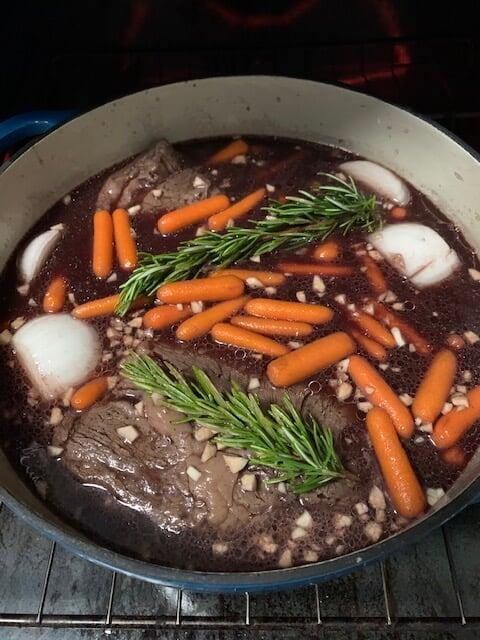 Ingredients
*3-5 pound chuck roast
*2 teaspoons salt
*1 teaspoon pepper
*2 tablespoons vegetable oil
*6 cloves of garlic (minced)
*2 cups full-bodied red wine (I used a Malbec)
*2 cups of beef broth (I used College Inn brand)
*2 tablespoons Worcestershire sauce
*2 medium-sized white onions (cut into 2-3 inch chucks)
*1-pound bag of pre-sliced and washed baby carrots
*1 pound of bite-sized potatoes (any type you prefer, washed)
*2 sprigs of rosemary
*2 tablespoons cornstarch if you prefer a thicker gravy
Pre-heat the oven to 350 degrees Fahrenheit.

Place a Dutch oven pan on the stove and heat the vegetable oil on medium-high heat.

Sear each side of the pot roast for 1-2 minutes to seal in the juices.

Remove the roast from the pan and set it aside.

Add the garlic to the juices left in the pan and stir for 30 seconds over the heat.

Next add the wine and beef broth to deglaze the pan.

Place the roast back into the pan.

Pour the Worcestershire over the roast, and add the onions, carrots, and potatoes.

Stir lightly then add the rosemary on top.

Place the lid on top and now place the pan into the pre-heated oven. Cook the contents for 3 hours, or until the meat shreds easily with a fork or is close to 200 degrees Fahrenheit internal temperature. (At 3 hours, this roast typically is perfect, and shreds like butter).

If you want the juice a little thicker you can mix 2 tablespoons of corn starch into 1/4 cup of COLD water. Stir well. Then you can whisk that mixture a little at a time into the pan to make a thicker gravy. Note: Don't add powdered cornstarch or flour directly to the hot liquid, it will clump.
*A variation of this recipe that I prefer is to omit the chunk potatoes altogether and add the roast, carrots, onions, and gravy overtop homemade mashed potatoes.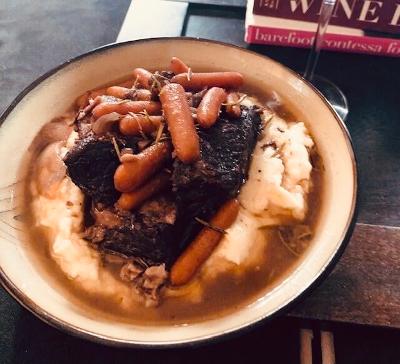 Mangia! I hope you enjoy this recipe!
Xoxo -Lisa