Tuesday Treats!
Quick & Tangy Bruschetta

This is one of my favorite appetizers. It pairs well with wine. ;) Minimal but quality ingredients.
Ingredients
*A fresh loaf of Italian bread
*5 or 6 vine-ripe tomatoes (or any favorite), chopped into small pieces and placed in a small bowl
*3 Tablespoons olive oil
*3 Tablespoons red wine vinegar
*1/2 Tablespoon Dijon mustard (I prefer Grey Poupon)- gives it that tangy flavor
*Kosher salt (1 or 2 pinches)
*ground black pepper (a dash)
*Italian parsley or basil for topping if preferred
In a small ramekin or bowl, whisk together the oil, vinegar, salt, pepper, and Dijon mustard. Pour over top of the tomatoes and mix well. Spoon the mixture onto either the sliced fresh bread, or you can also toast the bread slices if you prefer a crunchier texture to your bread. I prefer the bread and tomatoes in their simplest form here, but you can also create variations of this and add diced onions and/or sliced black olives to the tomato mixture. Top the bread with the tomato mixture and bon appetite!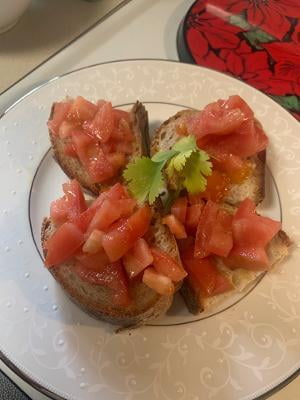 Mangia!
Xoxo -Lisa