Lisa's Recipe Corner
As we approach our Nation's Independence day, I thought it would be great to make a dessert that reflects the theme of the holiday. The Stars and Stripes are close to my heart, and now they are in my stomach too! Haha. Here is an extremely easy to follow recipe. It is simple, delicious, and you can easily substitute other fruits for different creations. I hope everyone has a safe, happy, and healthy holiday weekend! Happy Independence Day America!!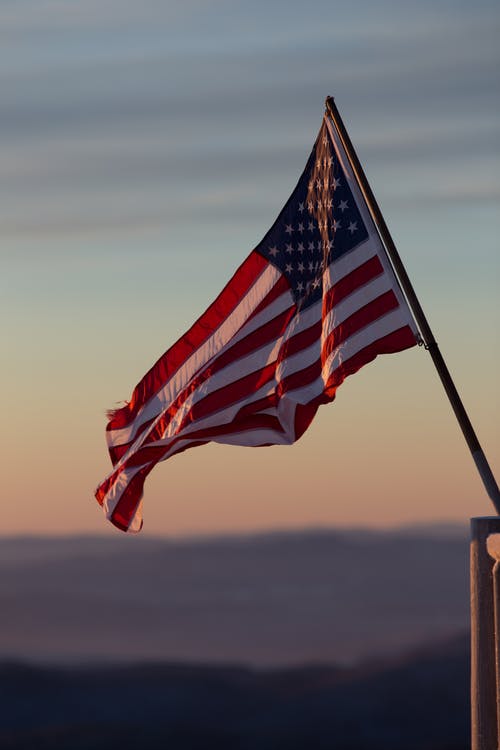 Mixed Berry Galette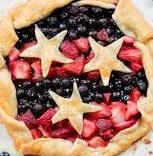 *1 box of Pillsbury pie crust (2 crusts per box)
*1 cup strawberries, hulled and cut into eighths
*1 cup blueberries
2 tablespoons white sugar divided, plus a bit more for sprinkling
*1 tablespoon flour, divided
*2 tablespoons lemon juice, divided
*1 egg (for egg wash)
Preheat your oven to 350 degrees Fahrenheit.
Prepare your berries in two separate mixing bowls - one with strawberries, 1 tablespoon sugar, 1/2 tablespoon flour and 1 tablespoon lemon juice and the other with blueberries, 1 tablespoon sugar, 1/2 tablespoon flour and 1 tablespoon lemon juice. Mix to combine.
Place one pie crust on a baking sheet lined with parchment paper. Beat your egg lightly, and brush around the edge of the pie crust, leaving a 2" border. Then, arrange your berries in a 'stripe pattern' in the center of the pie crust (you should be able to get 2 stripes of each type of berry). Fold the edges of the pie crust over the berries.
With the other pie crust, cut out 2-3 stars (depending on the size of your star - if smaller, you can fit more, if larger you may 2-3 should do it) and gently place them on top of the berries. Brush the stars and the edge of the galette with the egg wash. Sprinkle the edge of the galette with sugar.
Bake galette in your preheated oven for 35 - 40 minutes until the crust starts to brown and the juices in your berries start to bubble. If you feel like your crust is browning and your berries aren't quite done yet, just throw a piece of foil around the edge of the galette to cover the crust.
You can also make smaller individual-sized pastries as seen below. The cooking time may be less with these, so just keep an eye on the fruit and use foil to cover the outer portion of the crust if it's starting to look overdone.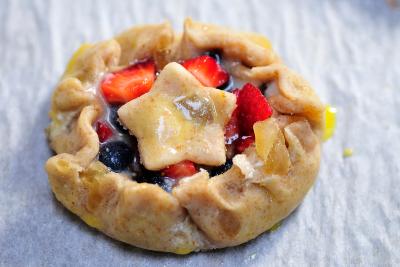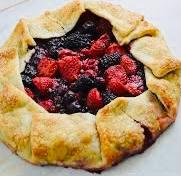 Mangia!

Xoxo -Lisa