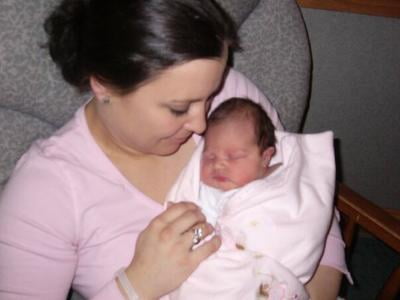 Deciding to go back to work after maternity leave can be downright nerve wracking. Some moms may decide to stay at home and others will decide to go back to work, either because, financially they don't have a choice, or they don't want to give up the career they spent the first part of their lives developing. No matter what choice a mother makes, it's so important to support them as their friends, family, and coworkers.
My career in vascular surgery was something I was definitely not giving up at the time. I was untraditional in a few ways. I went back early (after 7-weeks) and I chose not to breastfeed. I went back earlier because I had post-partum depression and I needed the part of my life that I felt defined me. Having zero control with a baby, it was a comfort to feel I had control over some aspect of my life. I chose not to breastfeed because I didn't want to feel uncomfortable during the potentially long surgeries I was involved in. It was also helpful for me to have her dad help with the midnight feedings too. I have zero regret for going back to work and I have zero regret for not breastfeeding. Luckily for me I had an extremely supportive family and a mom that encouraged me to do what I needed for me. If you make the decision to pump while at work, make sure it is understood by your employer that it is your legal right to have a private, clean, and comfortable place to do so.... and this does NOT mean a bathroom. I also chose to have an elective c-section. I had no desire to be in labor and I did it my way. I don't feel any less of a mom having made all of those decisions. I am lucky to say I had a wonderful pregnancy, a beautiful delivery surrounded by my work family, and an easy surgical recovery. That being said, this is not a one-size-fits-all scenario. Every mom needs the space to breathe without feeling judged. Any mother that ignorantly judges another mother for her parenting decisions better make sure they are perfect in every way before judging anyone else.
Here are some things that certainly helped me transition back into the work force after delivering my daughter:
1) Childcare: We were blessed to hire in-home care. I hate the term "nanny". To me it sounds arrogant and elitist, and to be honest, some childcare centers are just as expensive. Our Sarah, who Maggie lovingly re-named "Yaya", became family. We had her start a couple weeks before I went back to work, so the transition wouldn't be so dramatic on that first day. If you opt for childcare out of the home, consider doing this as well. Maybe start 1-2 days per week prior so both you and baby are comfortable with the new routine. After 3 years our Yaya decided to start a family of her own and we also felt it was a good time to introduce Maggie to a traditional day care setting for more socialization. Now at age 13, we still see Yaya and her daughters, and Maggie is still the best of friends with some of the little ones she first met at age 3.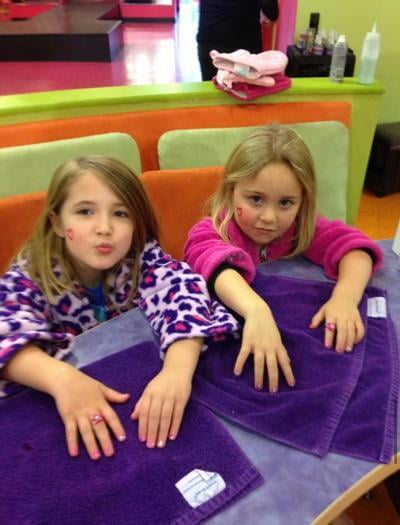 2) Be kind to yourself. Buy a new outfit, get a new haircut, or get a mani-pedi. Even just having time to do an in-home face mask, taking a bath, or painting your own nails can be relaxing.
3) Organize. Organize. Organize. I can't stress this enough. Lay out your clothes the night before, pre-pack your lunches, and on Sunday nights, prepare your week's meal-plans in advance. If you are pumping/breast-feeding, make sure all of your supplies are in the bag and ready to go for the next day. Get your briefcase/work bag together and get a shower the night before. All of these things will help you save time and allow you to spend some quality moments with the little ones before you head out to work.

4) Take it slow: I was also lucky enough to ease back into the work week. I initially went back 3-days/per week, then after a couple of months, I went back 4-days/week (having every Wednesday off until Maggie went to kindergarten). I will always be so grateful for those Wednesdays. We always planned outings: into the city, to the beach, museums, aquariums, the zoo, and even fun restaurants. I do attribute her comfort and good behavior in these places to the early exposure.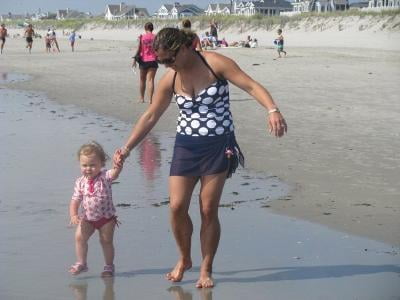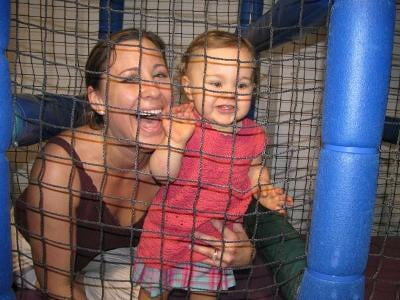 If you don't have the option to go back part-time, then look at it as "time warping back to pre-delivery". It may be more difficult, but you aren't lowering any expectations by returning to the career you had before at full speed.

5) Managing the anxiety. According to pediatrician Dr. Ian Paul from Penn State College of Medicine, 17% of new post-partum mothers suffer with anxiety. I had thoughts like: Am I going to trip and drop her? Am I going to get into a car accident? Is she going to cry uncontrollably in the grocery store? Many of these feelings are normal and expected, especially the first few months after delivery with all of the circulating hormones. Once I was given the clearance to exercise again, I started running. It was so essential in managing my stress. If you hate running, try any form of exercise that appeals to you. Swimming, biking, hiking, or even try one of the million workout videos you can find online (everything from dancing, boxing, yoga, and weightlifting). As they get older, include them in your exercise or sports routine.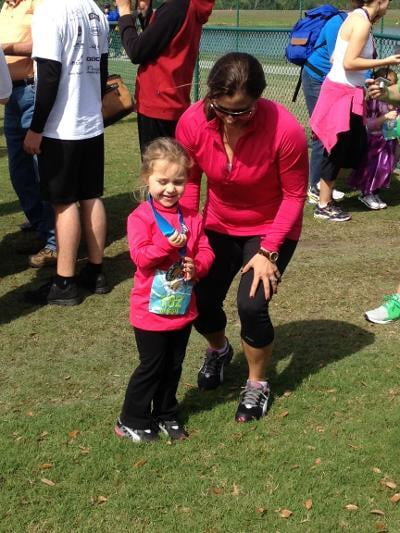 6) Managing all of the advice you WILL be offered before and after the delivery: You will be offered more advice during this time, than any other time in your life. "Don't do this..... Don't do that......". What's important here is that you not let people's opinions stress you out. What works for some may not work for others. Just smile, gracefully tuck away the tidbits that seem helpful to you, and if not, you can quietly say in your head.......
7) Carve out dedicated time to spend with your little one. It is definitely easier to do before they are mobile. Once they are talking and walking, it's especially important for their self-esteem. You may not want to play whatever they choose but make it a point to let them know their interests matter too. Take at least 20 minutes every day and play whatever it is they want to play. Remember, they may not have wanted to go to that one restaurant they were expected to sit and behave in for 2-hours straight. It will develop their self-esteem and make them feel valued, even from a very young age. Maggs always loved cooking, and still does. We signed up for various cooking classes, which we both have enjoyed over the years. Something else important to us was reading. We always had wonderful books before bedtime and naps.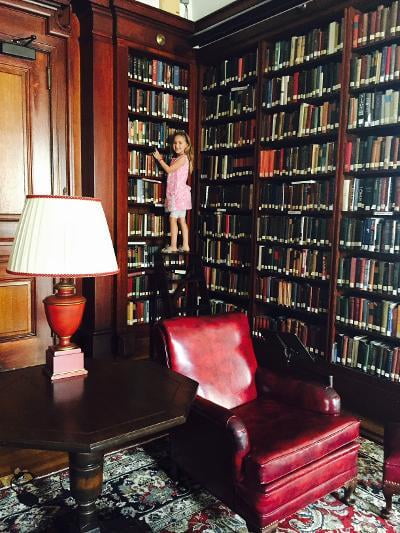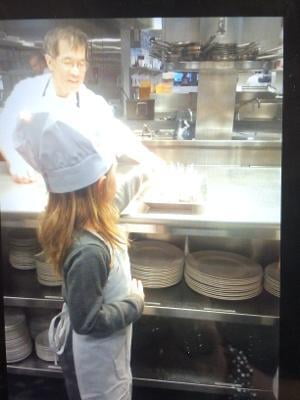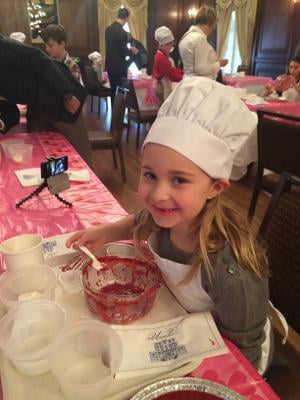 8) Give yourself some slack. Not everything will go smoothly no matter how well organized you are. Try to set back-up plans for work and childcare. Lay out all expectations in advance with your family, friends, and employers. Most importantly, make sure you can have down time to unwind and destress. Whether it's with a book and a cup of chamomile tea or a Netflix movie and a glass of wine, we all function better after a break.
Hopefully these tips will help ease the stress of returning to work post-partum and remember to keep in close contact with your OB-GYN, pediatrician, and/or primary care provider if there are any signs of severe post-partum depression. The time goes by so fast. Try to embrace even the small things. Before you know it, they will have their own children and you will be able to say you remember the growing pains with love.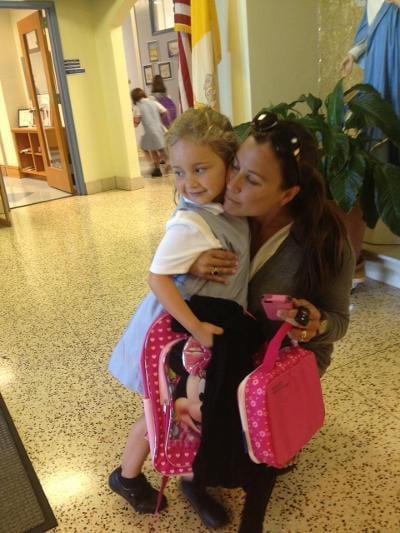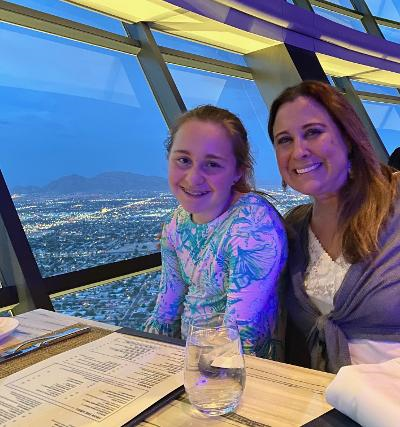 Xoxo -Lisa