Châteauneuf-du-Pape
Pronounced: shah toe nuf dew pop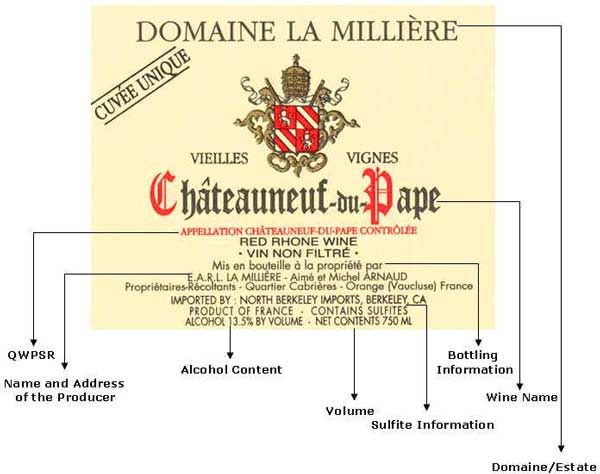 Below is a map of southern Rhône. Châteauneuf-du-Pape is the southern Rhône's most exclusive appellation: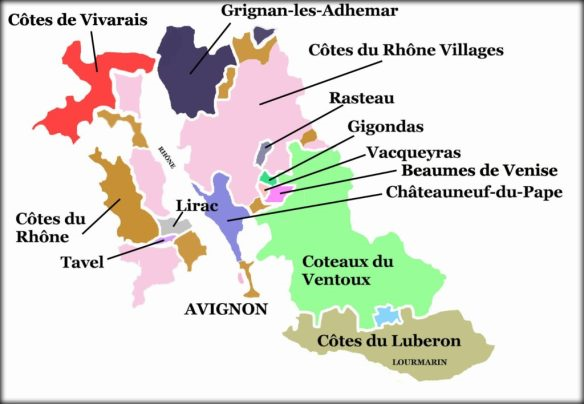 The name Châteauneuf-du-Pape literally means the "New castle of the Pope". During the 14th Century, the city of Avignon, just south of Châteauneuf-du-Pape, was chosen as the new home for the Roman Catholic Pope. Due to unrest in Rome, the Papal home remained in France for the following 73 years, beginning with Clement V (formerly the Archbishop of Bordeaux). In 1370, the Papacy went back to Rome.
What grapes are in Châteauneuf-du-Pape? 18 grape varieties. French law originating in the mid-1930's stated only 13 grape varieties were allowed in a Châteauneuf-du-Pape. In 2009, 5 more were allowed. These 5 are rare and rarely used except in small wineries that happen to have small plots of it remaining, such as in tradition or they are working at reviving those vines. These rare grape varietals include: clairette rosé, grenache gris, picardin, picpoul blanc, and picpoul gris.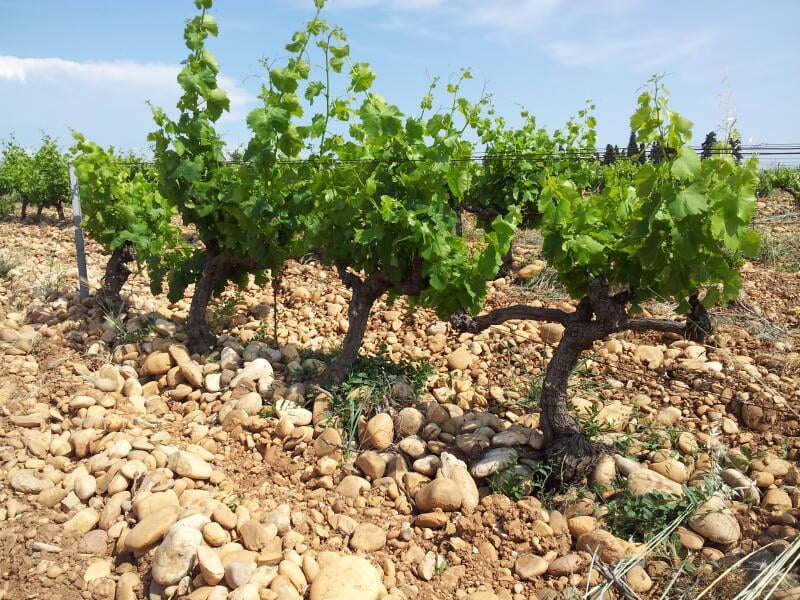 Grenache, syrah, and morvedras are the 3 main grape varietals used for Châteauneuf-du-Pape, grenache being the largest percent given that 75% of the region of Châteauneuf-du-Pape grows that varietal. 7% of these wines are white. The authorized white grapes include: grenache blanc, roussanne, clairette, and bourboulenc. The rest are red. These include: counoise, cinsaut, muscardin, vaccarese, picpoul noir, and terret noir.
This region is known for its soil composed of large, potato sized rocks, also known as galets, mostly having been deposited thousands of years ago by glaciers. These rocks do 2 things specific for these vines: 1) they keep the soil and clay below, cool and wet for the roots and 2) the sun exposed portions of the rocks, absorbing heat from the sun during the day, radiate that heat back to the vines at night. This continues to assist in the maturation of these naturally late-blooming grapes, well into the evening hours. As magical as it would be to have a vineyard in this region..... I can't imagine how many sprained ankles must occur while working with these vines.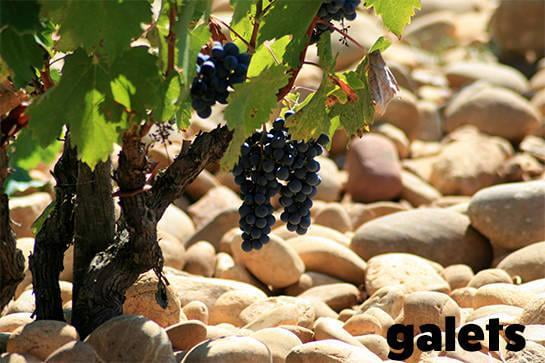 Châteauneuf-du-Pape wines are deep in color and intense in flavors. Grenache brings red berries and cooked fruit characters, plum and prune, cooked apples, and cherry liqueur., while syrah and mouvedre add notes of black pepper, sweet spices and earthy tones.
Below are a couple I have purchased from our local Pennsylvania state store. These wines aren't cheap, but they are amazing to have on hand for a special occasion. While it is possible to find a bottle of Châteauneuf-du-Pape in the $30 price-range, it may not be of excellent quality. 2011 and 2016 were exceptional years for these wines. 2012, 2015, 2017, and 2018 were considered good.
Chateau Mont Redon Rouge ($40- $50)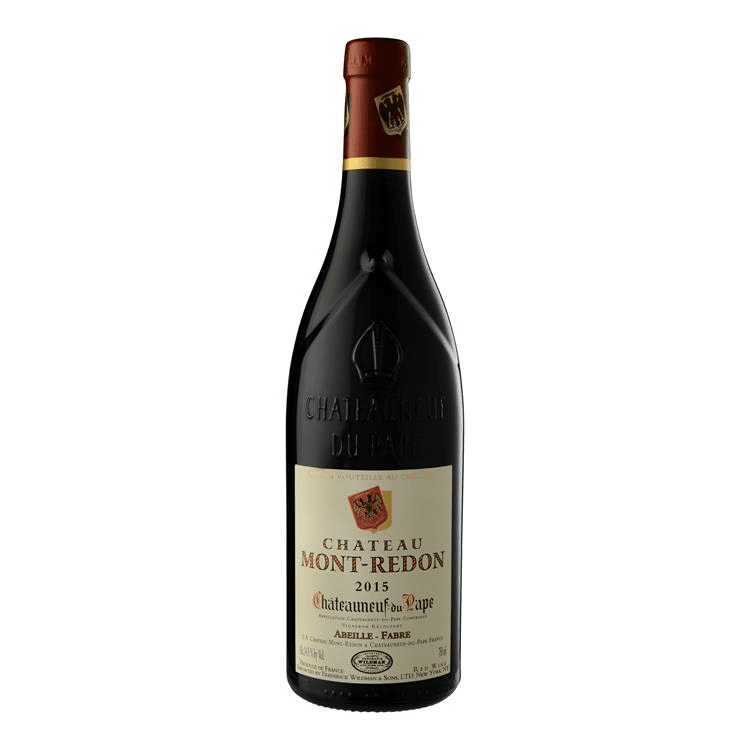 Chateau de Beaucastel 2015 ($80-$90)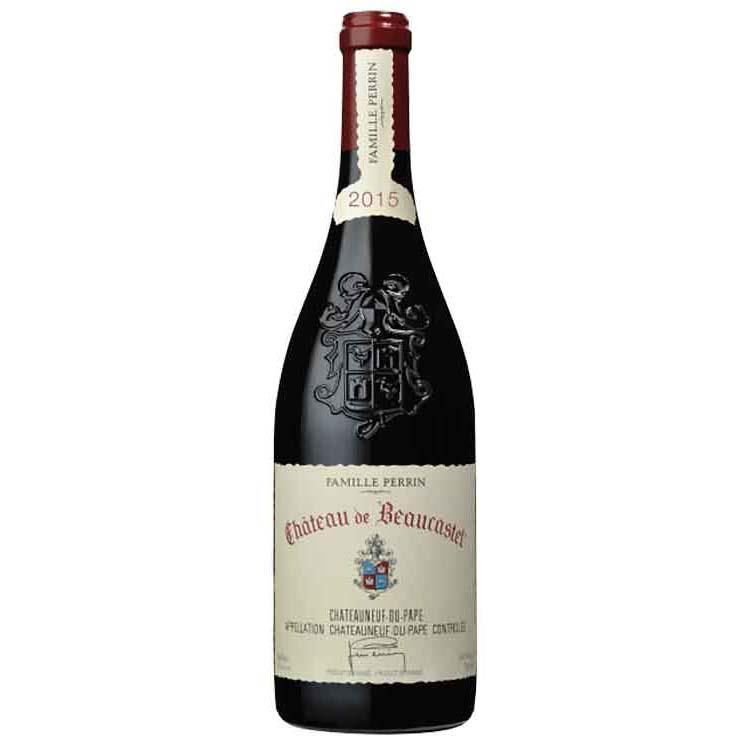 I have yet to try a white Châteauneuf-du-Pape. Once I find one, I'll let you know what I think. Until then, Happy Wine Tasting!!
Saluti!
Xoxo -Lisa