The history of crepes dates back to 13th century Brittany, France. It seems a housewife there accidentally dribbled some thin porridge onto a hot, flat cooktop. Since people back then weren't inclined to waste even their smallest cooking mistakes, she ate it. The rest, as they say, is history.

Since then, these delicate treats have been crafted by the finest French restaurants and by local street vendors for centuries. Although they may seem intimidating to make, I created a fast, no-fail way to make these in your own kitchen. All the ingredients go into a blender and are then poured onto a pre-heated pan. I use a 12-inch round griddle pan, but any large round pan will work.
Ingredients needed: This makes 6 crepes, but you can double the recipe to make more.
*1 tablespoon butter (melted) plus extra to coat the hot pan.
*1 cup milk (1%, 2%, or whole)
*1 large egg
*3/4 cup All-Purpose flour
*1/2 tablespoon (or 1.5 teaspoons) granulated sugar
*1/4 teaspoon baking powder
*1/4 teaspoon salt
*Powdered sugar for dusting
Fillings: Anything you wish........ Popular combinations are jams, Nutella +/- banana or fresh berries, cream cheese and strawberry preserves, brie and fig jam, or savory tastes like sauteed spinach and garlic, spinach and feta, or apple, honey, and prosciutto.
Pre-heat your stove top griddle pan over medium to medium-high heat. Add about 1/2 tablespoon butter to coat the bottom of the pan evenly.
Combine the melted butter, milk, eggs, flour, sugar, baking powder, and salt into a blender. I use my small Nutribullet blender, but any blender will work. Blend briefly, scrape the inside of the mixer with a spatula to ensure no dry ingredients are left behind. Pulse the blender for 1-2 more seconds until smooth, and you are ready.
Pour about 1/3 of a cup of batter onto the heated pan. Tilt and swirl the pan to coat the bottom evenly. Gently lift a corner after 1-2 minutes. If the bottom is starting to become golden brown you are ready to flip it. The trick for flipping is to take your spatula and slide it under the center of the crepe, lift it up to gently flip it. It will lay down folded and when the uncooked side is down, you can unfold the rest to fill the pan.
Once the crepe is flipped, add your filling of choice. Then once the other side has cooked for approximately 1-2 minutes, you can either roll your crepes or fold them. In the picture just below, I used Nutella and sliced banana filling. I folded the crepe in half, then in half again. It is dusted with powdered sugar and decorated with a sliced strawberry.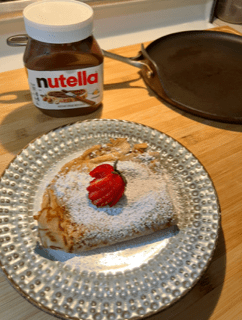 Apple, Brie, and Caramelized Walnut Crepes
Spinach and Feta Crepes